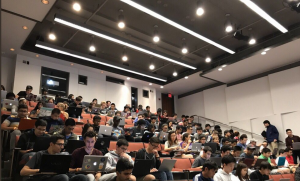 A hackathon is a 12-48 hour event where people come together to solve a problem, often through computer programming. "Hacking" in this case means playing around with new technologies and languages and building something, often with a group.
I attended PennApps, which is Penn's hackathon, last weekend. This time, I did not go to submit a hackathon for the competition. I went to soak up the innovative and creative atmosphere, and it did not disappoint.
I enjoyed seeing projects, also known as hacks, which included both software to hardware, like Amazon Echos, Arduinos, Raspberry Pi's, and more.
Some cool hacks made that weekend included a lamp that changes color based on the conversation, a walking-at-night-safety app, a burrito-making machine, a YouTube karaoke Chrome extension, and more.
I also caught up with friends I met at other tech events, went through some online tutorials, and participated in the fun side-events PennApps hosted, like a ping pong tournament, a 5K run, ice skating, and more.
Why should you attend a hackathon?
You will learn. There are plenty of workshops, mentors, teachers, and people to help you learn something new. They're beginner-friendly, don't worry!
You will meet amazing people. I still keep in touch with people I met at hackathons from my first year! There's something uniting and inspiring about giving up your weekend to build something and learn new things, and that brings people together.
You will network. Hacks I made at hackathons have helped me get interviews, and they've helped boost my resume. I'm confident I would not have gotten, or done as well, at my last two internships had it not been for things I learned and built at hackathons.
You will leave hungry for more. I've failed at these events (hey, coding for 12 hours straight, sometimes with a new language, is rough!) I've learned persistence, resilience, patience, empathy, and ultimately, how to stick with something. Seeing what others build is motivating. I remember high schoolers building medical apps to help fight cancer, and being in awe at them. Gosh darn it, those hackers inspire me to learn more after the hackathon is done!