The SAAC (Student-Athlete Academic Advisory Committee) has a speaker series, and last Thursday, I went to hear our own President Cassidy (also known as "KCass") speak on positive psychology.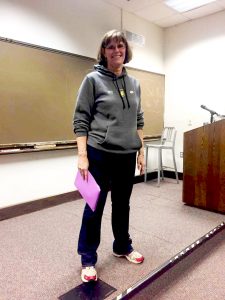 KCass swam at Swarthmore during her undergrad and is an avid supporter of BMC athletics. She talked about entity theory (where one believes intelligence and ability are fixed traits) versus growth mindset (where one believes those traits can be developed through hard work.) As student-athletes, I think it's common to have a growth mindset because we constantly engage in deliberative practice which, as KCass said, is "repeating testing skills over and over again…leading to higher performance."
As a senior, I've been thinking a lot about growth recently, trying to reflect on how I've grown throughout college. I've realized that I no longer fear either discomfort or failure. I don't welcome or look forward to them, but I now use both to drive me to work harder and be better. Entity theorists believe failure is bad because it means you are unskilled. However, the following quotes illustrating the positive side of failing really resonate with me.
"It is impossible to live without failing at something, unless you live so cautiously that you might as well not have lived at all – in which case, you fail by default."                    -JK Rowling
"I've failed over and over and over again in my life and that is why I succeed."                -Michael Jordan
"Success is not final, failure is not fatal: it is the courage to continue that counts."        -Winston Churchill
"It's not how far you fall, but how high you bounce that counts."                                    -Zig Ziglar
 "When we give ourselves permission to fail, we, at the same time, give ourselves permission to excel."                                                                                                    -Eloise Ristad
"Winners are not afraid of losing. But losers are. Failure is part of the process of success. People who avoid failure also avoid success."                                                -Robert T. Kiyosaki
At Bryn Mawr, I've felt empowered to step out of my comfort zone. I feel confident that my peers won't judge me for trying something new (oftentimes with discomfort and the possibility of failure), and feel like I have the support to learn and ask questions. I think it's interesting going back home on breaks and hearing from friends that they won't do something because they're "not ready" or "don't know enough." I remember going to hackathons (programming competitions) my freshman year and the summer afterwards even though I didn't know much. I went to learn, to experiment, and to be inspired. I would not be the same person if I did not attend those (and fail sometimes in the process, like when I did not implement what I was supposed to.) However, those experiences helped shape who I would become so now I can do what I once failed to do.
This summer, I ran a half-marathon without training. I ran track in high school but had never done more than 10 miles at a time before, and the week before the half-marathon, spent each night in a local bar with the team I was interning on because we all flew in to San Francisco from around the world for our summit. Because of this, the 13.1 miles were extremely uncomfortable, but I think I've become better at pushing through discomfort. Sports, Bryn Mawr classes, and programming have all contributed to that.
There is nothing wrong with not knowing, or feeling like you don't belong, or feeling inadequate. There is nothing wrong with being the least smart person in the room because that is how you learn and grow. I only wish that everyone I knew outside of Bryn Mawr could feel as empowered as I do to do so.